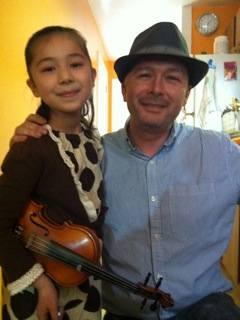 ---
My classes
Private class

$60 pp for 1 session  (1hr)  · Private class

---
Description
Ben has been teaching music since 1988. He offers classical music lessons for violin and viola, and also instructs students in Olde Tyme, bluegrass, jazz, rock and other styles of fiddling. Ben also gives lessons on acoustic guitar, focusing on reading music and tablature along with picking, fingerpicking, chord building and songwriting skills. All levels of experience and ages of students are welcome in his studio. Lessons are held in his studio or your home. Ben's younger students perform music they have been working on twice a year in a casual recital format. Ben also schedules a performance event once a year for his adult students. Attendance and participation are strictly voluntary, but it is typically a relaxed and supportive atmosphere. Ben's younger beginning students are instructed in both the Suzuki and O'Connor methods. His adult beginners learn from a method called Strictly Strings. Intermediate and advanced students work on music they choose which can include violin and viola concertos, technique building etudes and caprices, the Bach Sonatas and Partitas for solo violin, the Bach Cello Suites transcribed for viola, famous rock, pop and jazz songs, or a large range of fiddle tunes. If you are interested in learning violin or viola, Ben can make recommendations on where to rent instruments and purchase materials that will be needed for the music lessons. You can contact him through this website. Startup costs are nominal. Ben's 2014 rates are $50 for a 45 minute lesson and $60 for an hour long lesson. When traveling to a student's home, generally within San Francisco, Ben requires an additional $10 travel fee. Prices may be subject to change. Guitar lesson fees are based on a sliding scale.
Where
2 Studio Locations, Mission and Haight/Ashbury Heights or your home
About Benjamin Barnes
Ben Barnes has played and recorded with artists including Les Claypool, Mr. Bungle, Dead Prez, The Coup, Carla Kihlstedt, Eric McFadden (P-Funk), Jason Newsted (former bass player of Metallica,) DJ Disk, Brian Kehoe, Graeme Jennings, Isaac Stern, Angelo Morello and Fishbone, among others. He has toured the world with his own groups the RILKE STRING QUARTET and band DEADWEIGHT. Barnes received his Bachelor of Music and Master of Music Degree from the San Francisco Conservatory of Music and a Multiple Subjects Teaching Credential (K-8 Classroom) with Supplementary Authorization for Music from San Francisco State University. He studied violin with Isadore Tinkleman, and viola with Paul Hersh. While there, he attended weekly master classes in violin with the then San Francisco Opera Concertmaster Zaven Melikian and viola classes with Associate Principal Viola, Don Ehrlich of the San Francisco Symphony. Barnes also went "off-campus" to study electric violin, jazz performance and composition with composer/performer David Balakrishnan of the Turtle Island String Quartet. His pre-college music studies were with soloist and Heifetz protege Sherry Kloss and former Tokyo Symphony Principal Viola professor Marlon Carlson (Oregon State University). Ben learned to play guitar and sing from his father, David Barnes. Barnes has held artist-in-residence positions at San Francisco's School of the Arts, volunteered time at Hoover Middle School, taught privately at Brandeis Hillel School and the Music City Academy and runs his own private teaching studio.